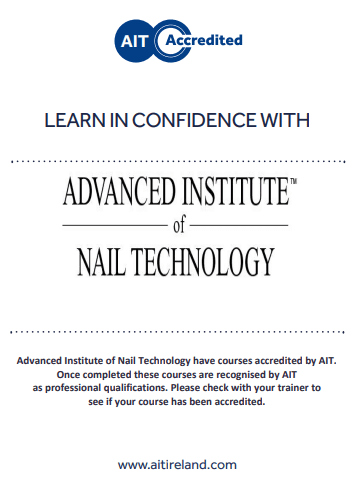 We know that all learners have different motivations for joining our courses, so to make sure we are doing our best to meet everyone's expectations, your tutor will contact you for a chat to can make sure the course you picked is the perfect fit for you. Here, you can discuss any worries or anything that we may need to consider. eg. dyslexia or any extra help you may need for you to be the very best you can be.
In designing the courses and durations at the Advanced Institute of Nail Technology, I want every student to have enough class time to fully understand the techniques you choose. If you don't feel totally confident at the end of your course, we can schedule extra classtime FREE of Charge until you do. I carefully allocated between 1 and 12 days for each course depending on the work to be completed.
Fully Accredited Courses
When you get qualified with a fully accredited nail tech course, you are guaranteed to get the best training possible. Accredited training providers go through a vigorous quality insurance process, and we at the Advanced Institute of Nail Technology take quality training very seriously. If you are eligible for the Back to Education grant, we have a step-by-step guide to finding grants that you may not be aware are available for you on the home page, follow this link: https://aintnailz.ie/getting-started-guide/
Why pay for a course, when it's available on Youtube?
Yes, you can look at nail applications online, but when you choose to take a course and carve out 3 hours per week to dedicate that time to your craft, and you, it is invaluable. Time isn't always that easy to find to practice, and as busy women, we sometimes have a lot of pressure on our time. This way, if you have kids and a family, a house to run, or a parent to mind, whatever you do, we take on all types of caring positions and this will be time for you.
When you carve out only 3 hrs per week to concentrate on your craft, everyone in your circle benefits from you being successful. We as women sometimes get lost, when taking a course, you are also mixing with other women in a safe supported learning space, it is super important.
I am really proud of the learner-centered tradition of training that we provide. We are just not offering a training course and product, we want you to gain a career that will lead to you being confident in earning real cash in your bank., that's why our courses are longer in duration.
Click the likes below to see past students.
https://drive.google.com/file/d/1xvY0iWj7NmBfq_YBqA9kk3w4L0oZmDSv/view
https://drive.google.com/file/d/1XIkbn72hU44MVJuJxwr5EyS9CAl-1tE_/view
https://drive.google.com/file/d/1MnPkazmXIiPCwRj36Wchd75CXe9Ohrs_/view