About Us
Our focus is on helping you to become empowered and self-employed in 2023
Deborah Whelan
Owner & Professional Nail Technician is an ITEC and CITBAC-trained Beauty Therapist and Nail Tech. She has 20 years of experience in the beauty industry.
In addition, she completed QQI Level 6 Training Needs and Identification & QQI Level 6 Training Delivery and Evaluation.
I am currently enrolled in a Degree in Learning and Development Practices Level 8 at UCC.
I love nothing more than encouraging my students to continue their education.
The Advanced Institute of Nail Technology 'AINT' was established in 2001. AINT is currently responsible for training groups of students in Community Colleges, FAS Colleges, and Private Colleges Nationwide. AINT was nominated for 'Innovator of the Year' and 'Training Institute of the Year' at the IBPA Irish Professional Beauty Association Awards.
Course Director Deborah Whelan was on the judging panel with the president of the IBPA in judging the nail Technician of the year. We won the silver title of Irish Nail Champions at the Irish Nail Championships.
Fully Accreditated Courses
Approved None-NFQ Training Provider
When you choose one of our fully accredited courses, you can be confident that we provide the highest quality training. This also guarantees that you can get insurance for your new career.
We are an approved non-NFQ training provider, which means that anyone receiving a Social Welfare payment can avail of the Technical Support Grant worth 1,000 euros to pay for any of our fully accredited courses.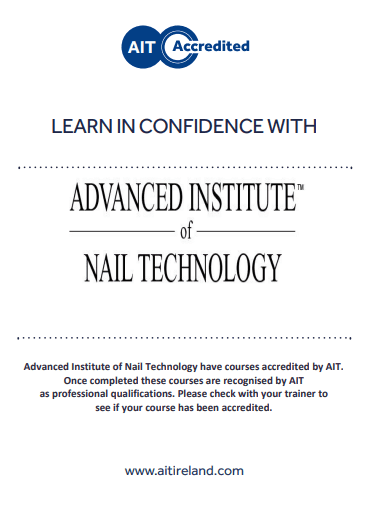 Certified expert instruction
With over 20 years of experience in the Nail Technician industry, AINT provides an excellent starting point for new nail technicians. We strive to support you on every step of your journey to becoming fully qualified.
Testimonial
"I can't recommend the Advanced Institute of Nail Technology enough! My Tutor Deborah was so kind and patient, our little group became friends for life. And I am definitely going to do another course soon" – Michelle McEvoy
YOUR TRAINING JOURNEY
We believe that education is not just learning; it's a journey, from deciding to start your course right through to certification.
We understand the obstacles that sometimes need to be overcome for you to start on this journey.
Both students and facilitators at Irish educational facilities and the Advanced Institute of Nail Technology (AINT) are becoming increasingly varied in their experiences and backgrounds, reflecting the diversity witnessed in our broader society.
When our tutors attempt to create safe, inclusive classrooms, they consider
multiple factors, including their own classroom behaviour, their knowledge of students' backgrounds and skills, the syllabus, course content, and class preparation.
It is our job to create a safe, happy environment for you to learn.
We use social media to communicate with you. Your tutor will upload the class diary using a private Facebook or WhatsApp group page. This is a recap of everything you do in the session and what to expect for your next session. Here we share pictures, ideas, and you can chat with the other students in your class.
YOUR KIT
Having spent 21 years in the beauty industry, training thousands of students to become Nail Techs. Empowering women through education and helping many get back earning on a self-employed basis or gaining employment in nail bars etc.
AINT has developed a full range of professional nail kits with training manuals available for professional use. AINTNAILZ integrates top-quality materials and years of experience in education – into one product family.
We care about the environment, all our liquid bottle containers are recyclable and refillable. We are 90% paperless, all your notes are uploaded to an easily accessible platform or emailed, then we go through them in class together. But, if you prefer paper notes, we can do that too, some people like to have notes in their hands to learn and we totally respect that too.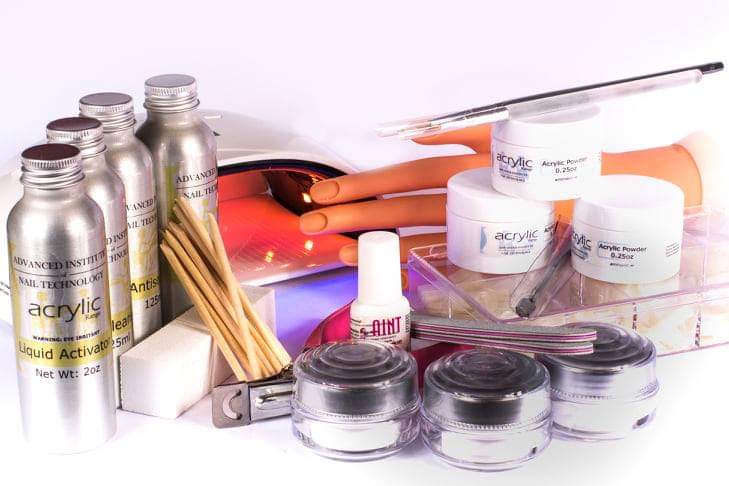 OUR PROMISE TO YOU
Our development engineers have carefully selected only the best quality ingredients and products to allow you to concentrate on the things most important to you, such as producing top-quality nails for your clients every time. We appreciate how hard it is to build a client base and stay ahead of competitors. That's why we promise you that we have done our research so that you can work worry-free, and confident that our quality assurance will always back you.
TO GET STARTED ON YOUR JOURNEY TO SELF-EMPLOYMENT
The duration of your course is from 12 to 1 day. So, you can decide how much time you can invest in your new career. Your first session is an informal meet-and-greet and introductory to the layout of your course.
Here you can meet fellow students, have one-on-one time with your tutor, and get help with any queries you might have.
Following that, your tutor will demonstrate from the beginner stages of preparing the natural nail, applying tips to producing top-class, natural, durable gel, and sculptured acrylic nail extensions.
Master perfect and quick prep techniques to prevent lifting, apply the nail form to perfectly fit with the natural nail, create competition-style smile lines making your clients nail slim and chic, create a free edge with white to make unique and perfectly sharp smile line.
Your classes are both fun and practical.
OUR UNIQUE EDUCATION SYSTEM
With the accomplishment of your classes, you will receive your certificate.
To be listed on our website as a quality-assured nail technician, you can book your place to attend our scheduled onsite practical exam date in February of every year. Check out our school diary to book your place in advance.
When you successfully completed the onsite practical exam, you will be listed on our website as a quality assured nail technician; here, you will receive special discounts.
WORKSHOPS
Continue to educate yourself with our masterclasses. Attend any of our master class workshops in the new and exciting "nail biter system," Our SuperFine dip acrylic system. Continue to update your skills with our sculpturing Xtreme nail shapes workshop courses in – Marilyn, Stiletto and Russian almond, Edge, Pipe, and Gothic Almond shapes.
CONTINUE YOU CAREER
We want to continue working with you, give you additional opportunities after your training, and become a distributor; when you have expert product knowledge, why not spread the word…. talk with local salons and product suppliers about stocking AINT products. Earn 20% on all your orders, receive cash into your bank account the next day
INNOVATORS IN THE INDUSTRY
I genuinely recommend the innovators, products, courses, and events by heart – and especially the team spirit and success philosophy to everyone.
Thank you for your trust, and we will work even harder in the next 10 years to keep you contented with our materials and tools to stay your trustworthy partner.
The nail innovator
Deborah Whelan
Beauty Expert and Advisor
View our nail courses and vip membership